Read Time:
4 Minute, 3 Second
Are you feeling stressed out and overwhelmed? Do you feel like you can't catch a break? If so, you're not alone. So many people feel this way, especially in today's hectic world. There's always something to do and not enough time to do it.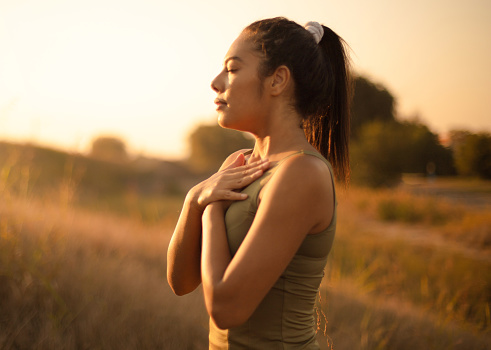 But did you know there are easy ways to bring peace into your life? In this blog post, we will discuss five simple ways that you can achieve inner peace and live a happier life. So, let's find out how. Shall we? 
Observe Angel Numbers and Follow Their Directive

 
One way to bring peace into your life is to observe angel numbers and follow their message. Angel numbers are sequences of numbers you repeatedly see in your everyday life. 
For example, you may see the number sequence 777 everywhere you go. This is a sign from your guardian angels that you are on the right path and should continue moving forward. 
The number 777 also signals that the universe is with you and supporting you on your path. If you've seen this sequence of numbers often, click here to learn more about the 777 angel number. Find peace and feel relaxed. 
Slow Down and Connect with Nature

 
One of the best ways to bring peace into your life is to slow down. If you're always rushing around and never taking time to relax, you'll feel stressed out and anxious. 
Image Address 
Take a few minutes each day to sit in silence and breathe. Focus on your breath going in and out. This will help you to clear your mind and feel more peaceful. 
You can also use this time to connect with nature. Spend time outside in the sunshine and fresh air. Listen to the birds singing or the leaves rustling in the wind. Let nature soothe your soul and bring you peace. 
Disconnect From Technology

 
Another way to bring peace into your life is to disconnect from technology. We are constantly bombarded with emails, text messages, social media notifications, and news updates. This can be overwhelming and stressful. 
Take some time each day to unplug from all of your electronic devices. Read a book, or sit and enjoy the silence. You'll be surprised how much more peaceful you feel when you're not constantly plugged in. 
However, for this approach to work, you must be willing to let go of your attachment to your devices. If you can't bear the thought of being without your phone for even an hour, this approach is probably not for you. 
If this is the case, you may find it helpful to set some boundaries with your devices. For example, you could allow yourself to check your email only once daily or only during certain hours of the day. 
If you're struggling to stick to your self-imposed rules, it's probably time to give up this approach and try something else. 
Be Present

 
This approach is all about mindfulness. When you're feeling stressed or anxious, take a few minutes to focus on your breath and be present in the moment. 
Notice the sensations in your body, the sounds around you, and the thoughts running through your head. 
Don't judge or try to change anything. Just observe. 
If your mind wanders, gently bring it back to the present moment. 
Doing this will train your mind to be more aware and present, which can help reduce stress and anxiety levels. 
Get Moving

 
Exercise is a great way to relieve stress and improve your overall health. Even if you don't have time for a full workout, a few minutes of aerobic activity can help to boost your mood and energy levels. 
Try to get moving every day, even if it's just a short walk around the block. And if you have difficulty staying motivated, find a friend or family member to join you. A workout buddy will help keep you accountable and make exercise more enjoyable. 
It's also crucial to choose an activity you enjoy and look forward to. Otherwise, you're more likely to bail on your workout. For example, if you hate running, don't force yourself to do it because it's "good for you." Instead, find an activity that makes you happy and stick with it. 
Wrapping Up 
In today's fast-paced world, finding ways to slow down and de-stress is more crucial than ever. By incorporating some or all of these activities into your life, you can help bring peace and calm into your life. 
However, remember that taking things one day at a time is okay. If you are getting overwhelmed, simply focus on taking small steps each day to help improve your overall well-being. Soon, you'll be on your way to a more peaceful and fulfilling life. 
Do you have any favorite relaxation techniques? Please share them with us in the comments below.